We at SilverFox manly use Centurion Motors as they are the most reliable gate motors on the market place. Centurion was established in 1986 and has become the leading South Africa manufacture of gate motors. 
Centurion D5 EVO
The evolution of the tried and tested D5 500kg gate motor for domestic and light-industrial applications. Incorporating battery backup you can bank on, potent push force and an intelligent LCD controller for easy setup, not to mention a gamut of features all tailor-made for the ultimate in security and convenience, the CENTURION D5-Evo is the apex predator of gate motors – it simply has no competition and no equal.
Centurion D10
So much thought has been put into every aspect of the D10 industrial sliding gate motor that we'll have to wait for technology to catch up before we can make any improvememts!
The CENTURION D10 uses a battery-driven high-torque 24V DC motor, coupled to a robust gearbox to provide an access automation system that is quick, powerful and battery backed up – perfect for industrial and commercial applications where heavy gates are installed.
Easy to set up and easy on the eye, the CENTURION D10 has everything you'd expect from CENTURION.
Add an LCD controller that can monitor diagnostics and set any function at the touch of a button and you'll understand why you won't need another gate motor for a long time.
Swing Gate Motors (ALL NEW)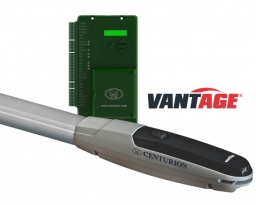 Sleek, stylish, secure and strong: these are some of the words that describe the VANTAGE linear swing gate motor for domestic and industrial gates. VANTAGE gate automation comes standard with battery backup offers a quick and easy (not to mention good looking) installation. It is an exceptionally strong set of operators for gates up to 4m wide, per leaf (consult specifications for further details).
Boasting tough-as-nails die-cast aluminum construction throughout, a grade 304 stainless steel worm shaft for the ultimate in reliability and durability and with sophisticated electronics for smooth, safe operation, VANTAGE gives you everything you need to swing the future your way.